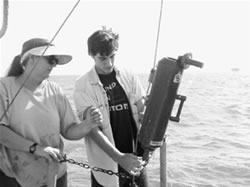 Jenny Cook has been working as a marine educator at Dauphin Island Sea Lab in Alabama for almost seventeen years. Located on the eastern tip of a barrier island in the Gulf of Mexico, the lab is Alabama's marine education and research center – the home site of the Marine Environmental Sciences Consortium, a group of state educational institutions. It offers undergraduate and graduate studies, faculty research, and K-12 programs and teacher training (through the Discovery Hall Programs) as well as housing the Estuarium (a public aquarium) and the Coastal Policy Center.

Discovery Hall education programs target 'everyone interested in learning about the ocean who is not pursuing a degree in marine science,' according to Cook. This includes kindergartners to senior citizens.
"Discovery Hall education programs target everyone interested in learning about the ocean who is not pursuing a degree in marine science."
During the school year, Cook teaches primarily K-12 students who come for day classes or an overnight stay. "Typically, we'll do beach walks and talk about the dunes, maritime forest, beaches, and barrier islands," Cook explains. Other activities include a salt marsh trip to learn about estuaries, a coastal oceanography activity in which students measure waves and currents, a program about hurricanes and how they've affected local history, and vessel trips. "In the summer, we shift gears completely," Cook says. Summertime means four-week courses for high school students from around the country and teacher training workshops.

No matter what the time of year, marine technology plays a role in the curriculum. For example, on boat trips students use a Hydrolab® to measure salinity and dissolved oxygen, and they're introduced to Niskin bottles (for water sampling) and other equipment that oceanographers use.

Cook holds a B.S. in secondary education biology, an M.S. in biology with an emphasis on marine science, and a high school teaching certificate. Neither the master's degree nor the certificate is essential for her current position, she points out, but the education and training she gained in earning them comes in very handy. Her training also includes a stint as a research technician at Dauphin Island Sea Lab before she completed her formal education. "I really learned about field work and how to think scientifically in that position," she explains. She has also learned on the job, as have many of her colleagues. "It's expected that the people we hire will usually have a stronger background in either science or education," she says. "We're happy to fill in any missing experience with on-the-job training."
"The best parts of the job are feeling that she's making a difference in kids lives and simply being outside a lot of the time."
There are aspects to her job that don't come from a classroom or on-the-job training. "Teaching is a gift," Cook believes. "Knowing something and being able to explain it to others so they can understand are two different things, and that can't necessarily be taught." Other important skills include being able to keep the attention of children of different ages and making learning fun.

Cook's least favorite part of the job is that she doesn't get to know the students well because they don't stay long. The best parts of the job are feeling that she's making a difference in kids' lives and simply being outside a lot of the time. "I teach at the beach," she enthuses. "How can you get better than that?"
---
<< Back to Profiles Start Page
---