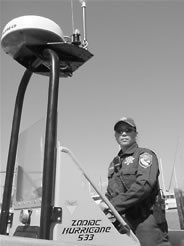 If you're longing for a desk job where you know exactly what to expect every day, then becoming a game warden with the marine region of the California Department of Fish and Game (CDFG) is probably not the job for you. But if the idea of something new every day, working outside, and teaching people about the value of natural resources appeals to you, you're likely to be very interested in Jennifer Ikemoto's job.

Ikemoto is a CDFG game warden assigned to the marine region. Based out of San Francisco, she works on the 58-foot catamaran-style patrol vessel, the Marlin. Its assigned patrol district stretches from Santa Cruz (on Monterey Bay) up to the California/Oregon border, but the Marlin may be sent anywhere along the California coast if it's needed.

The Marlin regularly goes on 3-4 day patrols, during which time the crew will make contact with the commercial and recreational fishing fleets – boarding and inspecting as many as 100 vessels a day. They inspect fishing licenses and gear and verify that a vessel's catch is legal (including target species, size of individuals, and overall amounts caught). They have the authority to seize a vessel's catch and issue a citation to the skipper, if necessary. "I'd say ninety-five percent of people follow the regulations, and if they don't, it's often because they just didn't understand them," Ikemoto says. "So it's a great opportunity to educate people."
"Ikemoto is also a fire arms instructor, field training officer, and SCUBA diver."
Inspecting fishing vessels is just one part of the job. If the weather's too rough to go to sea, they'll patrol fish markets, looking for illegal species. "And as game wardens, we often work on cooperative efforts with other regions, like hunting details or under cover units," Ikemoto explains. They also conduct deer and duck hunting patrols – again checking for licenses and legal takes.

And then there's repairing and maintaining the boat. "Our engineer can't do everything, so I'm learning basic boat mechanics and how to repair our skiff," she says.

Ikemoto is also a fire arms instructor, field training officer, and SCUBA diver. She has completed federal marine law enforcement training as well as special courses from the California Department of Boating and Waterways.
"There's a lot of competition to become a game warden."
There's a lot of competition to become a game warden. Ikemoto first had to be accepted to the Fish and Game Academy, and after completing a P. O. S. T. (Peace Officer Standard and Training) Certification there, she still had to undergo three months of supervised field training and a one-year probation period that is part of the state hiring process.

"Many people don't realize that we're state law enforcement officers," Ikemoto says. "It's one of the biggest misconceptions about our job."

Ikemoto holds a B.S. in biology and had finished the course work on a master's degree when she was accepted to the academy. The degree comes in very handy for this job, and her burgeoning mechanical skills help, too. "But the two most important skills are people skills and common sense, because those are what will keep you out of trouble and keep you safe," she says.

---
<< Back to Profiles Start Page
---