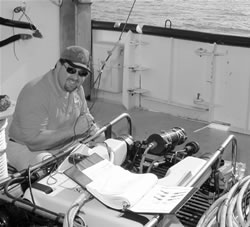 Mike Lane works in the Test and Analysis Branch at the Kennedy Space Center (KSC, in Florida). He works in the Prototype Lab, where one-of-a-kind designs are created and tested for feasibility.

Lane was a fixture at the MATE Center's first annual national student ROV design and building competition, held at the KSC in May 2002, because the Prototype Lab – and Lane, in particular – played a big part in helping to set up the event. "NASA is involved in a lot of community outreach," Lane explains, "so part of our work is to help with these kinds of events."

Some of the projects he has worked on with the Prototype Lab include new designs for vehicles, launch pad integrations, and 'everything in between.' "My job is to conduct data acquisition on new devices – to see if they work to the engineers' design specifications," Lane explains. "I work hand-in-hand with the engineers to solve problems that come up during the design process."

"I work hand-in-hand with the engineers to solve problems that come up during the design process"
Lane has a two-year A.S. degree in electronic engineering technology (communications) from Brevard Community College (BCC), a MATE educational partner, a degree that he says was a good educational path for this job. "Everything I learned was relevant to my current job," he explains. "In particular, it helped me in knowing how to use electronic test equipment and with programming computers and the math that goes with that."

Lane's job lets him work in a lot of different fields and on different projects. Currently, he is working on a project to study a fish spawning site. As part of his work, he has designed and built a unit that can listen to fish spawning down to 1,000 meters.

The most enjoyable part of his job is knowing that he's working on historic, first-time projects. "I love working on things that have never been built before and seeing them come to life," Lane says.

"Jobs don't come to you; if you have a specific interest, you must go after it"
"Computers, computers, computers..." That's how Lane responds when asked what the most important skills are for his job. He credits the co-op program he participated in at BCC with helping him obtain his practical computer skills. In the program, students worked for a company during one school term and then returned to school for the next term. "It took a little longer to get through school, but the experience was invaluable," Lane says. He also points out that, after graduation, students are often hired by the companies at which they did their co-op work, because the companies don't want to lose the training investment they've made. In addition, students can get college credit for the work.

Lane's advice for students who want to do similar work is to go out and beat the bushes. "Talk to people in the field you're interested in and find out how they got there," he suggests. "Jobs don't come to you; if you have a specific interest, you must go after it."

---
<< Back to Profiles Start Page
---